Electro-Photonics is a global supplier of RF and Microwave components. Since 2009, the company has been designing and selling quality standard and custom products to satisfied customers in the US and around the world, including Fortune 500 companies.
Products overview
SMT Hybrid Couplers
SMT Directional Couplers
SMT Power Dividers
Test Boards for evaluating components
Microwave Filters
RF and Microwave Test Fixtures
Mounting Tabs
Single Layer Capacitors
Sub-mounts
Transmission Lines
Test and Measurement Accessories
Wire bondable passive components
Coaxial products
Extensive Design Experience in:
RF/Microwave circuits
Passive components
3D EM, mechanical, and thermal analysis
Testing and Fixturing:
Custom RF fixtures to 20GHz
Evaluation boards for passive components
Build-to-Print:
Thin film filters
Transmission Lines on Alumina and Quartz
Thin film circuits on various ceramic materials (Alumina, BeO, AlN, CVD Diamond, and others)
SMT Passive Components:
90°Hybrid Couplers
Directional Couplers
Power Dividers
Passive Components:
Spiral Inductors
Single Layer Capacitors
Mounting Tabs (Shorts)
Hybrid Couplers
Provide tight coupling, low insertion loss, and good phase tracking while being able to withstand high power. Custom design couplers   from 30 MHz to 18.0 GHz and power levels up to 500 W.
Directional Couplers
Have low insertion loss, high power capability, high directivity, flat coupling in a small package.
Power Dividers
Custom designed SMT RF & Microwave power dividers/combiners covering the frequency range from 0.4 GHz to 18 GHz.
TESTING AND FIXTURING
RF & Microwave test fixture for exceptionally accurate and repeatable measurements. Company create RF & Microwave test fixtures solutions for even the most technically challenging applications.

Featured Products
---
3dB 90 Degree SMT Hybrid Coupler:
Frequency: 1.7 – 6 GHz
Size: .560 x .200 inches
Power: 85W

3dB 90 Degree SMA Hybrid Coupler:
Frequency: 1.7 – 6 GHz
Size: 1.60 x 1.10 inches
Power: 50W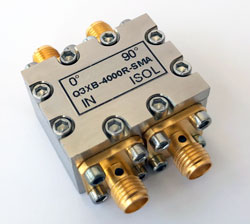 30dB Directional Coupler:
Test and Measurement
---
Chip & Wire
---
RF & Microwave Components
---