ICO-RALLY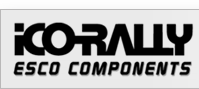 With over 60 years of business experience, ICO-RALLY designs, develops, manufactures and distributes electronic materials, components and specialty products for technologically advanced industries.  From early stage design to advanced inventory management, ICO-RALLY is dedicated to provide technology-driven solutions and unparalleled service.
ICO-RALLY products serve a wide range of markets in the electronics industry, including:
Aerospace and Defense
Automotive
Communications
Computer and Peripherals
Consumer Electronics
Electric and Power
Government
HVAC

         

Industrial and MRO
Instrumentation
Marine
Medical and Health Sciences
Public Safety
Security
Telecommunications
Transportation
P R O D U C T S
Heat Shrinkable Tubing
The ICO RALLY brand of heat shrinkable products is made from thermoplastic material such as polyolefins, fluoropolymers, PVC, neoprene, and silicone elastomers. The tubing shrinks in diameter when heated to provide insulation, abrasion protection, strain relief, identification, and aesthetic appeal. Available in a variety of wall thicknesses, colors, and sizes, ICO RALLY is sure to have the exact tubing required to meet your specific application. Many of these products meet the SAE-AMS-DTL-23053 military standard for heat shrinkable tubing.
Heat Shrinkable Tubing Products:
Protective Sleeving & Tubing
Leading the industry as a high temperature sleeving and tubing provider, ICO RALLY product is used in motors, generators, transformers, electronic devices, wire harnesses, and for various automotive and aerospace applications. In addition to coated and uncoated glass sleeving, ICO RALLY offers tubing, spiral wrap, and monofilament sleeving in several materials, including flame-retardant grades. Many of these products meet military, UL and CSA requirements. Our products are made to detailed manufacturing specifications, and supported with strict quality guidelines.
Protective Sleeving & Tubing Products:
Medical Grade Tubing
ICO RALLY supplies variety of rubber and plastic tubing, fittings, and clamps. Custom and standard precision extrusions are available using fluoroplastics such as PTFE, FEP, ETFE, PFA, and PEEK. These materials exhibit high lubricity and increased tensile strength, while allowing exposure to high temperature and harsh chemicals.
Specialty Tapes
ICO RALLY provides a complete line of pressure-sensitive adhesive tapes that exhibit chemical and heat resistance, electrical insulation, and abrasion resistance for use in various applications including harnessing, splicing, masking, and sealing. Materials include fiberglass, polyimide, PTFE, and polyester in conjunction with silicone, acrylic, and rubber adhesives.
Specialty Tape Products:
Wire & Cable Accessories
As your total cable management solution, ICO RALLY provides an array of plastic fasteners and wire management devices including cable-ties, cable clips, clamps, and bundling products. ICO RALLY's line of lacing tapes and cords are available in Nylon, Dacron, Linen, and PTFE coated fiberglass with various finishes available.
Wire & Cable Accessory Products: