Capacitors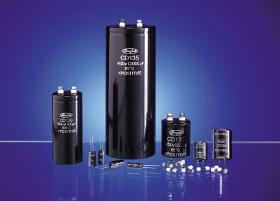 Pamir Electronics Corporation offers a wide selection of multi-layer ceramic chip, mil-spec, and high reliability capacitors for military, space, and commercial applications.  These include the following:
The leader in high quality ceramic capacitor products and respected by the electronic industry since 1980 for its highest standards of manufacturing, quality control and service. Presidio's state-of-the-art manufacturing technology utilizes the latest designs in machine automation and clean room environment.
A leading manufacturer of AC and DC capacitors 220-4000 Volt rating.  primary markets include airport lighting, tower lighting, defense contractors, UV curing, UV lighting & printing power supplies, transportation, and communications, HID lighting, ferro-resonant power supplies, filters, motor run, battery chargers, power factor correction, SCR commutation, snubber, frequency changers, motor speed controllers, static power supplies, harmonic filters, ultra violet light curing,  pumps, compressors, energy discharge, sign & neon lighting ballast.
Pamir supplies electrolytic and aluminum electrolytic capacitors, ceramic, RF/Microwave, radial, snubber, and monolithic capacitors, surface mount devices (SMD), and tantalum capacitors.  Also available are custom-designed, high-voltage capacitors and capacitors for high current, power semiconductors, and D-C applications.
Aluminum Electrolitics
Ceramic
Film
RF / Microwave (multilayer & single layer)
Radial
Snubber
Axial
Electrolytic
Mica
Monolythic
SMD (Surface Mount Devices)
Tantalum
Custom-designed, high voltage capacitors
Capacitors for High Current, Power Semiconductors, and D-C Applications
Mil Specifications:

MIL-C-5C
MIL-C-20D
MIL-C-25C
MIL-C-62B
MIL-C-91A
MIL-C-3871
MIL-C-3965C
MIL-C-10950B
MIL-C-11015CNASA S-311-P-829NASA-S-311

MIL-PRF-123

MIL-PRF-55681

MIL-PRF-49464

MIL-PRF-49467

MIL-PRF-49470

MIL-C-11272B
MIL-C-11693B
MIL-C-12889A
MIL-C-13157C
MIL-C-18312B
MIL-C-19978B
MIL-C-23183
MIL-C-23269A
MIL-C-26655A
MIL-C-27287
MIL-C-38102
MIL-C-39001
MIL-C-39003
MIL-C-39006
MIL-C-39011
MIL-C-39014
MIL-C-55681
MIL-C-123