Wires, Cables & Tubings (Military & Commercial)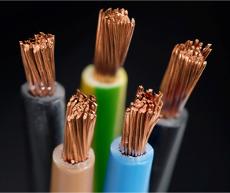 Pamir Electronics offers a full range of wires, co-axial cables, and tubing for such applications as military/aerospace, cable & wire bundles on robotics and automated machines, data/telephone communications, and outdoor cable harnesses.
See the listing below for more information about the many wire, cable, and tubing products available from Pamir.
EZ Form Cable Corporation has long been a leader in the field of miniature coaxial cable, pioneering such products as:
The first soft-jacketed copper semi-rigid cable;
The first MIL-C-17 QPL aluminum-jacketed semi-rigid cable;
EZFlex Formable™ hand-formable cable;
EZFlex™ 401,402,405 flexible cable, with performance rivalling semi-rigid cable;
EZArmored Ruggedized cable which incorporates the line of EZFlex cable with a nearly indestructible armor jacket.
With over 60 years of business experience, ICO-RALLY designs, develops, manufactures and distributes electronic materials, components and specialty products for technologically advanced industries.  From early stage design to advanced inventory management, ICO-RALLY is dedicated to provide technology-driven solutions and unparalleled service.
Type of Wires
Mini/Micro Co-ax
Twisted
Wire Rope Cable Assemblies
MIL Specifications:
MIL-W-16878
MIL-W-27500
MIL-W-81381
MIL81044
MIL-W-22759
MIL-W-83420
MIL-W-5086
Type of Cables
Coaxial Cables – high temperature and high performance designs
EMI/RFI shielded
Satellite
Instrumentation
Flexible Microwave
Semi-Rigid Cables & Assemblies

Aircraft Cables & Assemblies
High Temperature custom engineered cables
Computer
Fiber Optic
Plenum
Ribbon
MIL Specifications:
MIL-W-16878
MIL-STD-454
MIL-C-17
MIL-I-45208A
MIL-S-45732E
MIL-W-83420
MIL-Q-9858A
MIL-C-83522
MIL-SRD-45662
MIL-C-85045E
Type of Tubings
Polyolefin Shrinkable
Vinyl (PVC) Shrinkable
Nylon Shrinkable
Kynar Shrinkable
Teflon Shrinkable

Silicone Rubber Shrinkable
Neoprene Shrinkable

Flame Retardant Irradiated Polyolefin Shrinkable
Irradiated Kynar High Temperature Shrinkable
Irradiated Fluoropolymer Shrinkable
Ultra Thin Wall Heat Shrinkable PVC

Plastic Impregnated Fiberglass
Very High Temperature Fiberglass
Silicone Rubber Coated Fiberglass
Expandable Self-Fitting Sleeving
MIL Specifications:
MIL-I-23053B
MIL-I-7444C
MIL-P-21922A
MIL-C-572
MIL-R-46486A
MIL-I-22129B
MIL-M-19098
MIL-I-47203
MIL-R-46646
MIL-I-3190
MIL-M-22096A
MIL-S-47053
MIL-I-631D
MIL-I-18057
MIL-P-20693
MIL-T-43435
Applications:
For Cable and Wiring Bundles on Robotics and Automated Machines
For Military and Aerospace Wires & Cables
For Data & Telephone Communications
For Outdoor Cable Harnesses