RF & Microwave Components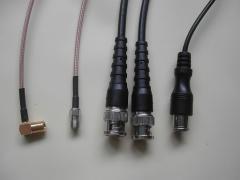 Pamir Electronics Corporation provides state-of-the-art RF and Microwave components for communications, radar, telemetry, and airborne applications.
Among the components made available through our exclusive product lines are signaling devices, RF microwave filters and amplifiers, frequency doublers, RF modules 2.4 GHz, power couplers, phase shifters, and power dividers/combiners.
See below for a listing of other popular RF & Microwave components carried by Pamir.
Spectrum Microwave Inc., an API Technologies company is a market leader in the world of RF & Microwave components and systems. API Technologies draws upon an extensive design library and a talented staff of experienced microwave engineers with backgrounds in amplifiers, mixers, filters, Oscillators, Synthesizers and systems. The company now is a single organization focused on providing a wide range of microwave solutions.
Crane Aerospace & Electronics, Microwave Solutions, specializes in the design and manufacture of high performance millimeter wave, microwave, RF and IF components, subsystems and systems for Government, Industrial and Military end-use customers.
Elcom Technologies, Inc. designs, develops, manufactures and markets state-of-the-art RF and Microwave modules and sub-systems for commercial and defense applications. Elcom uses innovative design techniques and proprietary manufacturing processes to deliver high-quality products, ranging from 1 to 40 GHz applications.
Silicon RF/Microwave semiconductor diodes-tuning & multiplier varactors, step recovery diodes, PIN Beam Lead,High Power PIN diode, PIN diodes, limiter diodes, point contact mixer and detector diodes, Schottky diodes, custom & discontinued diodes. MIS, MIC, Binary chip capacitors, Silicon thin film resistors chips, AlN thin film attenuator pads, Spiral Inductors. Package assembly services and testing, HI-REL testing.
Mid Atlantic RF Systems, Inc. (MARF) has a growing suite of products spanning radio frequency (RF)/microwave (MW) systems, subsystems and components (surface mountable and connectorized) up to 18GHz. MARF also specializes in the custom design of RF/MW products up to 20GHz. Their team of engineers can take your custom requirements and provide a reliable and cost effective solution that can be fully assembled by our IPC-A-610/EIA J-STD001 Certified assemblers and inspectors and tested to insure your requirements are met.
Merrimac Industries designs, manufactures and assembles enhanced, customized state-of-the-art microtechnology and RF microwave components, sub-assemblies and integrated modules for the worldwide defense, satellite and wireless communications sectors.
The leader in hi-performance microwave products for microwave and millimeter wave applications.  Improve your component and system performance with connectors, adapters and cables that feature exceptionally low insertion loss, low VSWR and low RF leakage.