Test Equipment & Instruments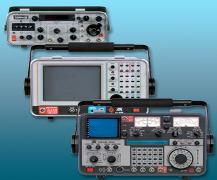 Pamir Electronics offers a broad array of test equipment and instruments for military, industrial, and commercial applications. These include heat flux transducers, thermocouples, and the products listed below.
Data Aquisition
EPROM Erasers
Image Analysis Systems
Multimeters
Oscilloscopes
Programmers
RF and Microwave Test Equipment
Wireless Communications Analyzer
Test Equipment for monitoring, analyzing and protecting fiber-optic cables
Medtherm is a leading manufacturer of heat flux transducers, infrared radiometers and fast response thermocouples. Medtherm offers unique microsecond response time surface thermocouples for wall surface temperature measurement, fast response gas temperature thermocouples, infrared radiometers, and heat flux transducers for the direct measurement of heat transfer rates.