Relays
Hermetically Sealed, High Frequency, High Voltage
Electro-Mechanical
Ultra Compact, Ultra Sensitive
High Frequency
Epoxy Molded DIP Reed
Polarized
General Purpose

PC Mount
Surface Mount
Telephone
Reed
Solid State
Rotary
Applications:
Telecom, Automotive, Power
Switches & Time Controls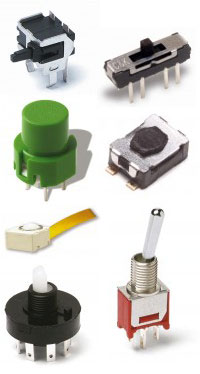 Hermetically Sealed, High Temperature, High Voltage
DIP
Illuminated
Lever
Magnetic
Programmable
Proximity
Pushbutton
Rocker

Rotary
Slide
Surface Mount
Switchlocks
Thermal
Thumbwheel
Toggle
Universal Switching Corporation manufactures state-of-the-art programmable switching products for rugged applications, government subcontractors, industrial and commercial customers in the US and abroad.
Their programmable switching products manufactured are employed for switching various types of electrical signals from a number of sources to one or multiple destinations. This is accomplished by means of remote computer control (software programmable) or intelligent front panel controls, or a combination of both. Remote control panels are available for larger group controlled installations. Software drivers are compatible with most operating systems to ease installation tasks.  They also offer a complete GUI software package as well.